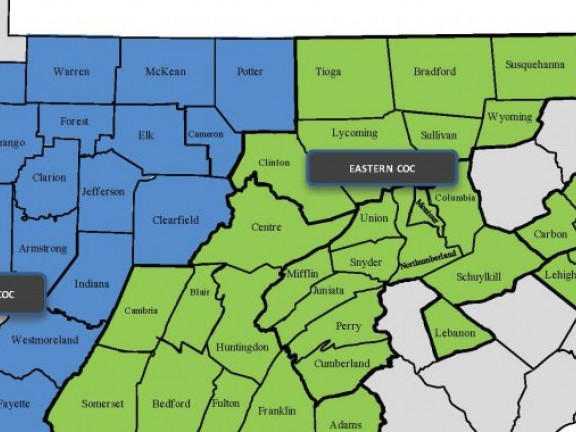 Pennsylvania Balance of State Continuum of Care Programs
Communities across the nation are working across systems to end homelessness, making it rare, brief and nonrecurring. By coming together to align funds, programs, services and housing options, communities are creating systems to better meet the needs of those experiencing homelessness. This work is facilitated by the U.S. Department of Housing and Urban Development's Continuum of Care (CoC) program. The CoC Program is designed to assist individuals and families experiencing homelessness and to provide the services needed to help those in need move into transitional and permanent housing, with the goal of long-term stability.
The Balance of State
As part of this program, many of Pennsylvania's rural counties have joined together to advance efforts to end homelessness under what is called the Balance of State. The Balance of State consists of two CoCs - Eastern and Western - comprised of seven Regional Homeless Advisory Boards (RHABs) that identify local homeless issues, coordinate planning for projects, identify needs, and develop strategies and priorities to end homelessness in the local area.